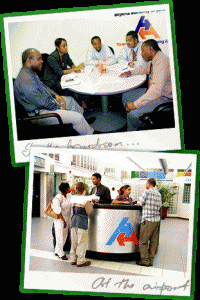 Capital Development Programme and the environment
In 2013 October, MBJ Airports Limited (MBJ) completed the US $18.9 million overlay of the runway with the full cooperation of the airline partners and ground handlers, as well as the hard work of the construction team of Surrey Paving and their partners Belvedere Place Development and IDL Projects. The project was completed on time and on budget.
In 2014 MBJ also completed construction of the new Fire Hall/station facility for the 29 member Emergency Response Services Team and equipment. The building is located more centrally to the runway surface, facilitating even faster response times. The works included improved protection for the equipment, gym facilities and better training amenities and accommodations for the emergency response team.
MBJ has been moving towards an even greater focus on sustainability programs aimed at protecting the environment. Initiatives include reduction of utility costs through improved terminal building efficiencies, greater protection of the fragile mangrove areas on the airport, and support of the Montego Bay Marine Park. In this regard, MBJ supported the annual International Beach Clean-up Day along the protected coastal area around the airport and Montego Bay.